If you're reading this blog, then you probably share our love for American cars and the Ford Mustang. Maybe you own one or you're just eager to import cars from USA. On the recent release of the latest Mustang, we thought we'd look back at the release of the very first Mustang.
The First Mustang
"Mustang! A car to make weak men strong, strong men invincible!" This was how Mustang advertised their new pony car in the 1960s. The advertising was over the top, but the enthusiasm for the classic 1960s Ford Mustang has never wained. The sentimentality felt about the Mustang and other classic cars and bikes from the 1960s drives the desire for many people to import cars from USA and share their passion.
The manufacturing story of this car is as fast and successful as its reputation.The original inspiration was for a car that could seat 4 people, had bucket seats and would sell for less than $2500.00. It only took eighteen months from the moment funding was approved, to the first Ford Mustang to roll off the assembly line in March 1964.
Ford's newest baby was advertised on television the evening before it was available, resulting in a staggering 22,000 cars being sold on day one. A year later Ford had sold over 418,000 of the cars. Today, Mustang is reported to have sold over 10 million cars worldwide.
Mustang in Oz
Many of the first Mustangs arrived in the Northern Territory and WA and were left behind by American service personnel. Australian's didn't have to wait long before the Mustang officially arrived in Australia.
But the arival of the Mustang was a marketing tactic that Ford hoped would generate interest in the new XR Falcon that was scheduled to hit the Australian market. About 200 Mustangs were imported into Australia during 1964 and 1965 and converted to right hand drive in Geelong and Homebush in Sydney. They were also fitted with a 289ci V8 engine for the Australian market. They sold for $6000 (300 pounds) and were known as the Mustang-bred Falcon. Today these RHD Mustangs are pretty rare.
Mustangs have continued to be imported into Australia, but most of the later Mustangs had a range of problems associated with conversion to RHD, lack lustre performance and negative reviews.
Ford's most successful Mustang was released over 40 years after the very first first pony car – in 2015.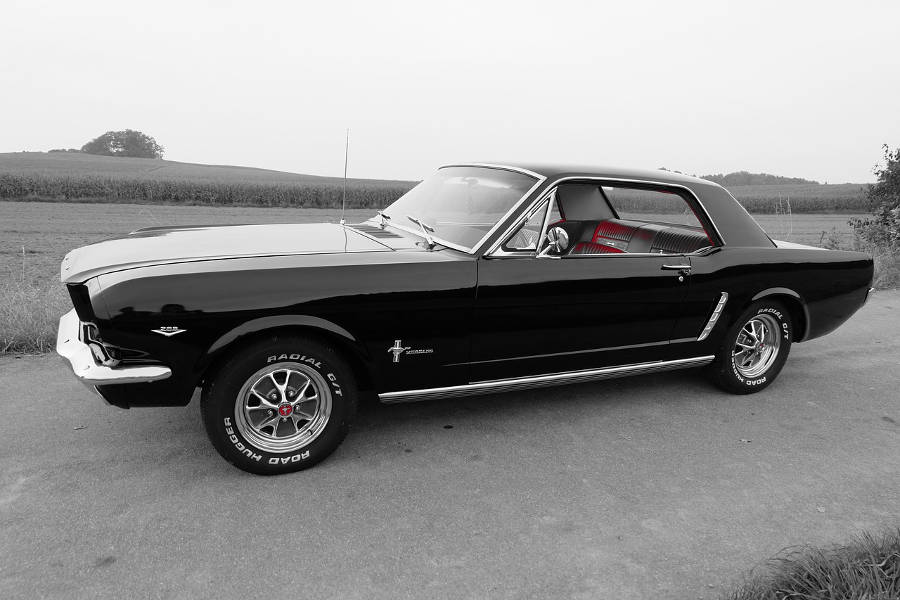 Australian's muscle car passion
Of course the Mustang is not the only American car that Australian's have fallen in love with. Corvette, Chevrolet, Dodge, and Pontiacs, have attracted Australian car enthusiasts with an appreciation for these classic 2-door, high performance muscle cars with their fastbacks and long nose.
The heyday for many muscle car enthusiasts is still the 1960s and 1970s and is often epitomised by Steve McQueen driving a Ford Mustang GT in the American movie, Bullitt. It features a classic car chase through San Francisco between McQueen's Mustang and a Dodge Charger. In the 1980s, The TV show, The Dukes Of Hazard attracted a new generation of American car enthusiasts with its 1969 Dodge Charger.
Get the real deal – Import cars from USA
No longer do enthusiasts have to be satisfied with a tiny sprinkling of these cars in the Australian market. Today, Australians have access to a huge market of second hand cars from the USA and now it's safer and easier than ever to import cars from USA to Australia.
American car shows and swap meets are amazing places to experience first-hand these legendary American performance cars. To travel to some of the best USA car shows to find your ideal American muscle car would be a dream-come-true for many.
Ameroz import cars from USA everyday and with a permanent base in LA we are able to share our local knowledge with Aussie enthusiasts on one of our buying tours. For those who want an authentic muscle car experience in the USA these are a fantastic way to have a holiday, while you shop for that muscle car you can park in your own garage.
For more information on how to import cars from USA, contact us.